Siege Machinery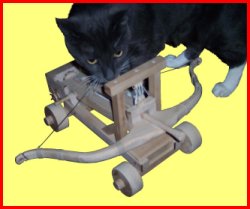 As promised, allow me to introduce Leonardo da Vinci's siege catapult, none of which were ever actually built. As you can see, this mini siege cat is under siege by this cat. This should negate the need for dimensions. If you need more proof, please click the cat.
Construction is of maple, walnut, brass, steel, cotton thread, sinew, and a long iron screw.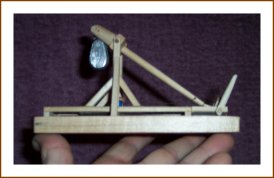 This lil beauty to the right, here is a trebuchet, a counterweight catapultlike seige machine devised by many different cultures over time, and it is soo very small that it is an trebuchette.
At barely 6 inches long, 2 inches wide, and 6 inches tall when unloaded, it may not be the smallest treb ever made, but can that one hurl an unarmed push pin over most cubicle walls with great acuracy?
Constructed of rock maple in just over 4 hours, it uses a one ounce fish sinker for a counter weight, and a trigger of my own devising that only lends itself to miniature machines. Sewing the leather pouch was quite an experience as it was barely 3/8 of an inch by 1/2.
The definition of onager is kicking donkey or horse. The onager family of siege machinery include any spring loaded weapons that kick from recoil after firing.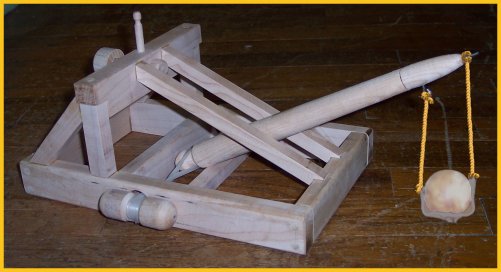 This example is a roman mangonel. It is an ancient weapon which utilizes the energy of ropes or sinews which are wound tight by means of levers or winches, the resulting force being used to propel a wooden bar toward the target.
A similarity between this weapon and the treb is the sling located at the business end, which when flipped, adds a whole lotta extra physics to the shots. A basket, net or metal cup could also be used in place of the sling, giving a more familiar look to the machine.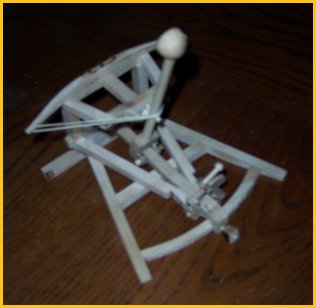 If anyone should know the name of the machine shown at right, please respond.If it never existed before, it should have, because it looks impressive. The bowstring is drawn by winch as the throwing arm accompanies it down to the firing position, where it is locked in the safe position. Projectile is loaded into cup. Lever is drawn, freeing firing mechanism. It is fairly accurate, and kicks when fired, so belongs here whether it ever existed or not.
---
Free plans for a tiny office sized trebucet (a trebucette, if you will)

This plan was originally intended to render a trebuchet to the dimensions 4x4x4", but it can be enlarged to include weapons in the 8" range but no larger due to trigger mechanism wimpy torque limitations. Mill lumber to 1/4x1/4" thicknesses. Cut to desired lengths.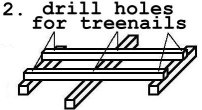 I construct all min-evel machinery using treenails to secure all jointery. It not only adds strength, but adds character to the overall look. I use a special jig which holds the pieces securely in the finished position before drilling treenail holes. Note: to those without said special tooling I would suggest allowing preglued joints to cure before installing treenails and as always, WATCH THAT DRILL, through safety glasses of course.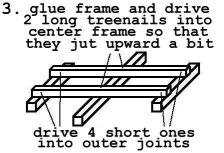 Most of the time, treenails will be sanded flush with their jointed members. The two in center must protrude through the top of the joint so that the two uprights can be slid down the treenails in the next step. If you have decided to stick with the treenail process you will already have noticed the remarkable stiffness of the cured frame.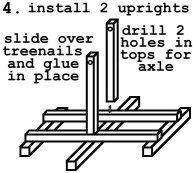 Chose the length of your uprights carefully as they are of suprising importance when it comes down to range and trajectory. Not tall enough and your instrument will be wimpy. Too tall and the whole thing begins to gyrate uncontrollably upon firing. The main priority in the smallest treb design was size, therefore we gave up alot of performance to achieve this design. The holes in the upper ends must be significantly larger than the pin that will soon rotate within them. Do not glue uprights in place at this time. Wait until all braces are made in the next step.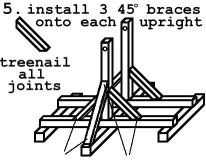 The braces for the smallest treb are set at 45° at each end. This makes for a squat but strong design, but if you make your uprights tall enough you will need to make the braces with ends of 30° and 60° respectively so that you may increase their effective height. You will need three for each upright. Glue and treenail all joints.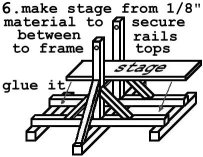 In order to get a clear shot, your projectile must overcome all of those pesky little frame cross-members. To do this we will need to make a stage. This will be made of very thin material and must be made in such a way as to fit snugly against the rails and sit flatly upon the aforementioned cross-members. It can, but does not have to reach all the way to the trigger area as the projectile is usually airborne by the time it would reach that far, but you can if you want to.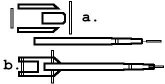 Now for the moving part. The traditional ratio for arm length is 1/5. That means that if you lay out the arm and sling, there will be five times more length at the long end from axis, than the short length, but you can do whatever you want. If the arm is too long, add more weight to the short end and vice-versa. Make the parts in a. and construct them as in b. Install axis pin snug but removable. Sling pin is made from brass, but any soft metal will do.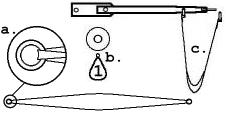 For very small trebs, a full sling should be used to minimize the need for miniature sewing. I use denim, but soft kid leather will do. a. shows the method for securing metal loops. b. shows two samples of the various objects which can be used as counterweights. c. shows how to secure sling to throwing arm. The sling pin can be bent forward and backward to allow for early or late release of projectile, a useful ranging procedure.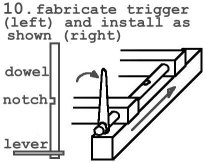 I designed this triggering mechanism and it is only intended to be used on very small trebs. Use the same drill and axle materials used in the securing of the throwing arm to the uprights. Cut a small notch in the center of the trigger pin. This will allow the sling pin down until the trigger pin is revolved, thus holding it down. Revolve it in the other direction and, well you get it by now. Add a cool handle and you are ready to lock and load. For those as yet unclear, attach the free end of the sling to the sling pin and ease the throwing arm down until the sling pin goes through the trigger notch. Move the folded sling down the stage and sneak a projectile through the braces and into the sling. Make sure projectile is resting comfortably in the center of sling. Place the weapon on a flat surface, and fire. Have fun.