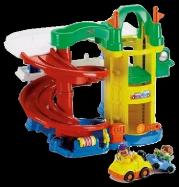 With all due respect to the fine folks at Fisher Price and the like, one look for a quality 32 scale autoshop and it is Playskool all the way. This stuff is fine until that day when a kid realizes that those cars don't look real. What mechanically curious child over the age of four is going to go for that? No one that I know.
This brings me to Big T. This lucky boy travels to car shows with his dad and has a great time looking at the rides. The day usually ends with Big T aquiring a realistic toy car. He found tool boxes and some tools to repair his fleet, but nobody seemed to know where an auto shop for these cars could be found. Here was a boy that badly needed a shop to pimp out his collection of cars, and to generally keep them in good shape. Up til then he used a series of cardboard boxes and his imagination rather than face the colorful, lame plastic alternatives.
One day I found him sitting next to his driveway with a car on his lap and he was pretending to jack up the car to see underneath it. We sat for a minute and decided that he needed a hydraulic floor jack. Of course there were not any available at that scale and so...into my shop I went and created a working floor jack that looks cool enough. That was the beginning of Big T's Automotive Enhancement. Each time a new piece is created it will appear first, right below this introduction.