8" tall 1792 style guillotine w wooden blade.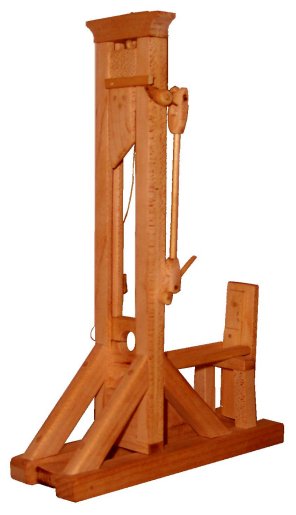 Working and fairly accurate miniature guillotine constructed of maple or birch. This model is 12 x 6.5cm x 20cm tall.(5 x 2 x 8 inches) Includes pull cord, fully movable table, detailed mechanical release mechanism, and WOODEN blade. All jointery is by ancient period treenail construction assuring a durable showpiece which after all was meant to be played with. No metal blade. Sorry, no victims available here, but many small dolls on the market. Buy one, cut off its head and install small magnets to reattach the head. Then its a simple matter of a quick conviction and...
Price is $180.00 and does not include shipping, any customizing or special handling charges. Alaska, Hawaii and International will cost extra.