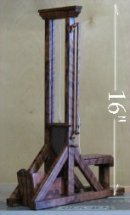 This is a 16.5" tall solid curly oak 1792 miniature guillotine.
Custom woods like these are rare and hard to come by and a wait may be involved until such materials can be procured
I believed this to easily be my best piece yet at the time, and for good reason. It is sculpture in the round. I cannot find a bad angle.
Built from 3/4" stock in different diameters, it is massively built and very heavy, which adds up to a most wonderous sound when the mechanism is tripped.
I use steel rivets to fuse my mouton assemblies. This guarantees centuries of unfettered play.
The number of possibilities for this model will mean dealing with me on a custom basis, price being agreed upon before purchasing. Expect to pay approximately: $300 for a 10" model, $400 for a 14" model and $500 for a 16.5" model like you see in the image.