Guillotine home Dreadwilliam.com home Other wooden machinery
11" tall solid rosewood 1860s style Guillotine Action Playset. rosplayset-001
---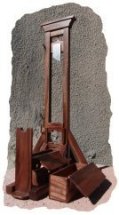 To see a larger and nicer image, click here.
Measures 7x11x5 inches, is fully articulated, has a steel blade, and a whole lot of realistic detail. Constructed of solid rosewood which can be very hard to locate.
This set is very close to what an actual execution would have required in the 1860s era. There are seperate waste recovery vessels to manage the great amounts of pressurized fluids on both sides of the blade. There is also a torso slide to quickly remove the deceased from the machine and into the casket for eventual disposal.
I now fabricate brass rivets in the binding of blade and mouton on all of my upper level models. The addition of brass adds a bit of elegance.
This model incorporates, for my first time, the more acurate "blade behind the mouton" design. This puts the best angle towards the rear of the machine where everything else is. It is a beautiful set.
Price: $800.00 and does not include economy shipping, or the almost indestructable carton that surrounds your model. Alaska, Hawaii and International will cost extra. Overnight or priority dates are also extra.
EXTRA economy shipping to Alaska, Hawaii, Canada & Europe