Guillotine home Dreadwilliam.com home Other wooden machinery
Larger models can be built. 11" tall solid rosewood 1861 style guillotine. ros-002
---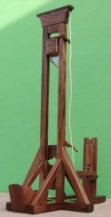 To see a larger and nicer image, click here.
Introducing my newest line of "blade behind" models. These are much more authentic than any models previously offered. I still go all "unique" on each model, though. Brass parts and details have been added for contrast. Measures 7x11x5 inches, is fully articulated and has a steel blade. It is fully constructed of solid rosewood and very very HARD.
Need a legally convicted victim? Go to the toy store, buy a doll, cut off its head and install small magnets to reattach the head. Then its a simple matter of a quick appeal process and...
Price: $550.00 and does not include shipping, any customizing or special handling charges. Alaska, Hawaii and International will cost extra.
EXTRA shipping to Alaska, Hawaii, Canada & Europe