11' tall human-sized realistic stage guillotine bigg-001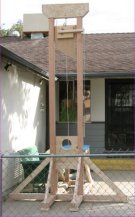 . This one totally rocks. It is huge, extremely dangerous and runs perfectly. It will be used in my all Hallows haunt and so at this time is rigged fake to do realistic beheadings via secret compartments, magnets, etc.
It currently has a flimsy exploding wooden blade for safety reasons, but that makes this model only slightly less deadly.
I will get a video up and running as soon as it gets painted.
This one will cost $2500.00USD plus a whale of a shipping bill. Weighs in at about 170lbs. Ships in three boxes.
Includes articulating table. NO STEEL BLADES!!
I will generate a paypal link upon request.